ITV's Broadchurch is the latest in a growing trend of shows about the impact of a child's death on an insular community (The Killing, Top of the Lake), not to mention yet another show about two mismatched cops paired up to find a killer. And yet, despite the familiar setup at work here, the way the story plays out over these 8 episodes leaves you with a stunning, heartbreaking, incredibly effective pay-off, arguably greater in impact than either of those other shows exploring similar themes.
It's fast-paced writing with wide ranging emotional depth from creator Chris Chibnall, and the fictional seaside town of Broadchurch, England is populated with fully developed and specific characters, all of whom harbor secrets of their own. The number of suspects is constantly shifting, and allegiances and plausible motives are lobbied back and forth like a birdie in game of Badminton- every episode leaves you with newly roused suspicions. When 11-year-old Danny Latimer is found dead on the beach in the first episode, the impact on the town is immediate as people wonder who in their close knit community where everyone either knows or is related to everyone else could have committed this crime.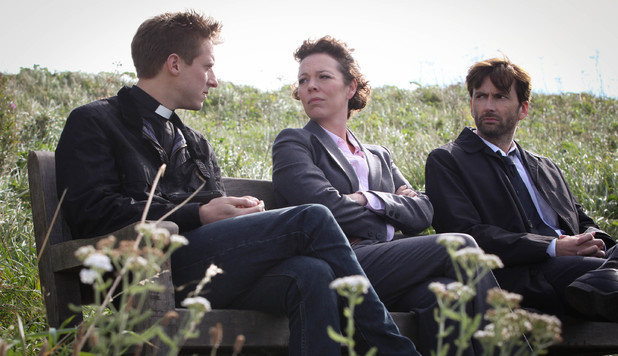 The detectives assigned to the case are Alec Hardy and Ellie Miller, played by David Tennant and Olivia Colman, and at first the familiar tropes are out in force. He's an outsider, untrusting, grizzled, and socially awkward, having been discharged from his last case in disgrace after failing to catch a killer in similar circumstances. She's a local soccer mom, warm, friendly, and possibly too emotionally attached, her son having been the victim's best friend. They don't get along of course, but as they work together their fondness and understanding grows, and if it wasn't for the two performances this partnership wouldn't be anything special at all, but Tennant and Colman sell it completely by making each character into an understanding and sensitive human being with problems of their own, that we come to know and like over the course of the show. They have a great professional chemistry, and I'd like to see them back again for another season, but who knows how that can happen with the ending of this one- the story is entirely self-contained and leaves you with no loose ends, it's more like a miniseries than anything else.
Despite the skillfulness of the way the mystery is unfolded, the heavy weight of this material is not avoided, and we see the full impact the death of a child can leave on the family affected. The parents of the young boy are played by Jodie Whittaker and Andrew Buchan as Beth and Mark Latimer, a couple who's been together since they were teenagers, are having their own marital troubles and have spent their entire lives knowing everyone around them, never having conceived of something like this shattering their comfortable little world. Whittaker especially is heartbreaking as Beth- she shows how the sunny, cheery personality of a young mom is devastated and ripped apart by grief, never to be the same again. There are several moments that wring genuine tears from the viewer throughout the series, even before the reveal of the whodunit.
And what a reveal it is- unlike The Killing, which didn't know how to wrap up its central mystery, or Top of the Lake, whose priority was in purposely not giving you all the answers, Broadchurch lays bare the foundation, the suspects, the motives, and keeps you guessing until the final episode who killer is. When you finally find out, you realize the clues were laid out all along for you to have solved it if you were really keeping track (I binge-watched and was therefore blindsided by the reveal, but maybe you'll be smarter than me). Nor does the show cheat you out of seeing the aftermath, the effect on the community, the family's reaction, everything you might want to know.
Broadchurch has already been commissioned for an American version sometime next year on Fox- but for now, the original is must-see television, currently airing on BBC America. Do yourself a favor and check this thing out- you won't regret it. It's as immersive as a great Agatha Christie novel come to life, and just as satisfying.
Grade: A
Trailer: